ScribbleMonster
Many people, especially kids, know Jim Dague better as ScribbleJim. Jim has illustrated three innovative books about the adventures of ScribbleMonster, a character he created while working with children age three and younger.  He was surprised to find the children had already developed a strong apprehension to drawing, primarily concerned that their efforts wouldn't be "good enough."  ScribbleMonster changed all that by allowing the focus to be on what the child can do, rather than focusing on what he or she can't.  Applying the same approach to music, Jim went on to form the band ScribbleMonster in 2001 and has been writing, producing and performing music for children and their families ever since.
ScribbleMonster is comprised of five Chicago-area performers with a history of creating, teaching and performing music, comedy and theater. In addition to Jim's guitar and vocals, the band's recording lineup includes the vocal assistance of his childhood friends Jayne Saniat and Joyce Stuart, Brian Hufnagl on bass, and Brett Goral on drums. Jim, Brian and Brett are also members of international recording artists, the ShysterS.
Together with his ScribbleMonster bandmate, Jayne, Jim teaches creative play music classes and presents special events for schools, libraries and special needs groups throughout the year.  Jayne is also a certified educator with a focus on early childhood/special needs. Both Jim and Jayne are parents to children diagnosed with autism spectrum disorder which further fuels their passion for providing service to the autism and special needs community.
With recordings recognized by National Public Radio, the Parent's Choice Awards and Parenting Magazine, ScribbleMonster's approach to music, learning and play has earned them five #1 songs on Sirius/XM's Kids Place Live and literally millions of streams on Spotify, iTunes and Pandora. As pioneers of the "kindie rock" scene ScribbleMonster has played at venues and festivals including Lollapalooza, The Chicago Cultural Center, Millennium Park, International Pop Overthrow, The Chicago White Sox, Power Plant Live (Baltimore, MD), Sheridan Opera House (Telluride, CO) and Guild Hall (East Hampton, NY). Like all great rock shows, ScribbleMonster's performance encourages audience participation and opportunities for creative expression.
"ScribbleMonster plugs healthy eating with their unique brand of hard pop. A Parenting Pick."
   -Parenting Magazine
"Some reviewers have likened ScribbleMonster to 'Sesame Street on Steroids,' but this Chicago group is popular with parents who don't mind a bit of an edge."
   -The Seattle Times
Top 25 Albums For Kids: "If there was such a category as alternative kids' rock, ScribbleMonster would be at the top of its charts."
   -AOL ParentDish
The ScribbleBooks Company
The ScribbleBooks Company understands the importance of building self-esteem. We believe children and their parents deserve positive, age-appropriate media to foster a child's natural creative abilities. That's why our mission is to provide children with fun opportunities and age-specific products designed to cultivate learning through creative expression in art, thought, music and play. While our products contain traditional elements, there is nothing conventional about them.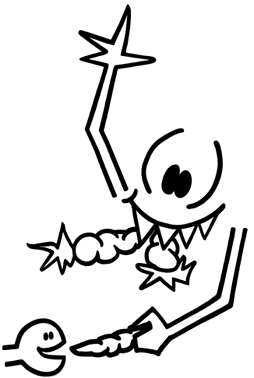 Our vision is to inspire creativity in children because we believe children learn by having fun and by expressing themselves through the arts: fine art, dance, the written word, music and singing. Our company was created to give children confidence in their developing abilities in the creative arts by validating their efforts and by building upon their successes in developmentally appropriate ways. Our books, our music, and even our t-shirts, are tools for stimulating creative expression. Our products don't frustrate the child because they are designed in a non-restrictive format that encourages a child's own unique creative participation.
Jim Dague is the creator of ScribbleMonster and illustrator of ScribbleBooks. Jim is an advocate of limited screen-time for children and is passionate about promoting reading and creativity in the arts for kids. Jim is also an award-winning musician and songwriter who busies himself dreaming up new opportunities, like the ScribbleTee, for kids to be creative.
Dr. Paige A. Dague, author of ScribbleBooks, earned her doctoral degree in education and is also a certified teacher, Licensed Professional Counselor, and National Certified School Counselor. She holds two master's degrees: one in psychology and counseling, the other in educational administration. Paige works full-time in the public schools. She is a member of the Association for Supervision and Curriculum Development, the American Education Research Association and Phi Delta Kappa.
In 2002 Jim and Paige co-founded Arts for Autism, a program in which entertainers volunteer their talents in the various creative arts for the benefit of autism research, educational initiatives and awareness campaigns. They are also involved parents of three cool kids. The ScribbleBooks Company was created from their passion for children and their desire to inspire creativity, as well as to promote reading and the arts. The ScribbleBooks Company is serious about fun and aims to inspire the next generation's creators.
"ScribbleBooks are stories to color, where lines are less important than creativity and fun."
   -Barbara's Bookstores
"An informative and engaging creation – a real charmer of a lesson book."
   -The Book Reader